Plot:
Matthew (Emory Cohen) is a teenage boy in New York who has therapy together with his father Frank (Steve Schirripa), because of their troubled communication. The boy runs away during their session. Angela (Sharon Angela), his mother, is worried but Frank is more concerned with his radio show, and whether his techs got his vodka. He proceeds to use a great deal of cocaine as well before the show begins. Matthew goes to a park where a lot of homeless people are congregated, where he is picked up by a couple. They give him alcohol and drugs, after which the woman has sex with Matthew while the man watches.
Nadia (Aunjanue Ellis) abandons her room because she's a month behind on her rent. She reconnects with an old friend from a yoga school, has sex with an old boyfriend, then leaves her yoga center friend's house when her friend becomes upset by her story of her relationship with Gus, her most recent lover. She has a meal on the stairs of a house. The woman living there comes home and tells her to leave, but Nadia refuses. The woman throws a bucket of water over her, and Nadia puts the bucket on the woman's head and beats on it.
Gus (Nick Sandow) is just getting out of a ninety-day rehab stint. He immediately goes out and gets drunk with an old man he meets in a restaurant. He calls Nadia again and again, but she won't answer his calls. He meets a woman named Lisette (Bess Rous), who it develops has been in the same meditation class which he and Nadia attended. He succeeds in unnerving, and then seducing her, but instead of following through on that, he tells her to go home by herself.
Matthew calls his father, who refuses to pick him up because he's in the middle of his show. He is picked up by his uncle Joey (Joe Caniano). Once home, he won't say what happened, even though Angela tells him she won't get angry. He tries to kill himself, then Angela and Joey head up to the mountains with him to help him work out his distress.
Frank, once he finds out what has happened, heads up to the mountains on a train, where he meets Nadia, who is fleeing the city. He begins to suffer chest pains, and Nadia calls for help; he's then gotten off the train. She is waiting for him when he comes out of the ER, and during a meal together, she encourages him to come to a meditation class with her. Lissette is in the class, but she and Nadia don't know each other, and don't speak. Frank begins to relax as the teacher leads them through guided breathing exercises. Gus, having first taken an overdose of pills, arrives, causing distress to Nadia and Lisette by his presence. He sits next to Nadia,
who obviously doesn't want him there, but with a blissful smile, he lies down on the floor and closes his eyes.
They Wait

is a

2007

Canadian

horror film.

It stars

Jaime King

as a mother attempting to find the truth and save her son,

Regan Oey

, when threatened by spirits during the Chinese tradition of

Ghost Month

. The other leading star is Chinese Canadian actor

Terry Chen

, who plays her husband. It was both filmed, and set, in the city of

Vancouver

, in

British Columbia

in

Canada

, and was featured at the 2007

Toronto Film Festival

.
Married couple Sarah (

King

) and Jason (

Chen

), and son Sammy (

Oey

), travel to

Vancouver

for the funeral of Uncle Raymond (Foo). During this time, Sammy begins to see ghosts and falls gravely ill, his illness coinciding with the Chinese festival of

Ghost Month

. After traditional western medicine fails to help Sammy, Sarah turns to a mysterious pharmacist who tells her that her son is held in a death grip by a living corpse. Sarah now must find what the spirits want before the last day of Ghost Month, or Sammy will be lost forever.
3. A Month of Hungry Ghost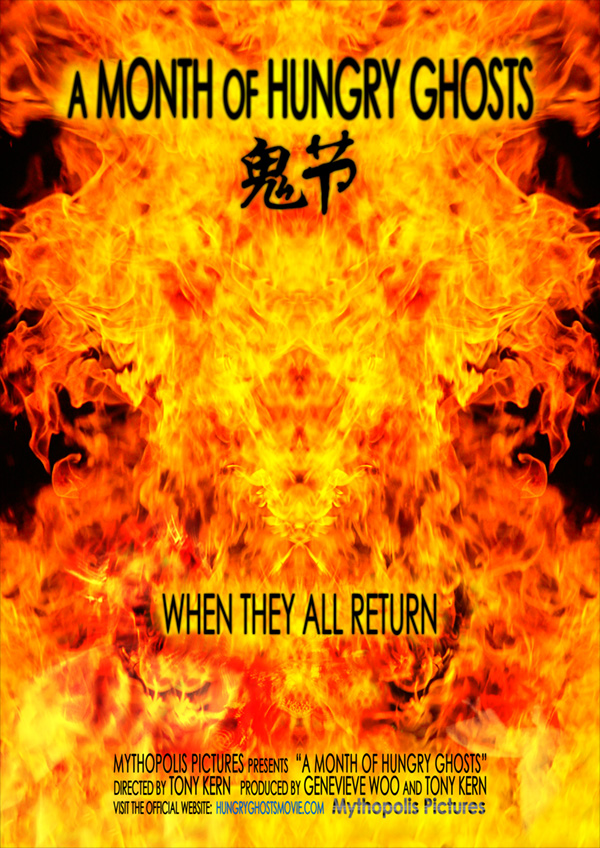 A Month of Hungry Ghosts is a 2008 film about the seventh-lunar-month Hungry Ghost Festival in Singapore. A Month of Hungry Ghosts is directed by Singapore-based American film director Tony Kern and co-produced by Genevieve Woo, a Singaporean television news anchor and producer with Channel NewsAsia, and Tony Kern. The film was released locally in Singapore on 7 August 2008. The film is distributed by Golden Village Pictures, and premiered at Golden Village VivoCity, Golden Village Plaza and Sinema Old School.
In parts of Asia each year, during the seventh lunar month, it is believed that the gates of Hell are opened and all the souls are set free to wander the Earth. At this time, many spirits roam around trying to fulfill their past needs, wants and desires. These are the "hungry ghosts". Numerous religious rituals and folk performances, like street operas, take place during the seventh lunar month to try to appease the spirits.
This film captures the seventh-lunar-month rituals in Singapore, a world-class centre of business and culture inhabited by many different immigrants from other Asian countries. While the hungry-ghost rituals originated in China and are still practised throughoutSouth-east Asia in various forms, they are slowly dying out in many countries or may only be performed for several days of the month.
Singapore is unique in that the rituals are brought to life throughout the entire seventh lunar month. At the same time, the immigrants in Singapore have brought their own native rituals to the small island nation where the hungry-ghost month still thrives. A Month of Hungry Ghosts captures these rituals and performances throughout an entire seventh lunar month in Singapore.
After incurring debts from his failed business venture in China, Zong Hua (Cheung) returns to Malaysia after a decade's hiatus. The demoralised Zong Hua faces problems finding a job and tries hard to get used to things at home, including his estranged relationship with his step-father, Xiaotian, who runs a Cantonese opera troupe, and half-sister, Jing Jing (Cathryn Lee). Jing Jing is hostile towards Zong Hua as she always has the impression that the death of their mother was caused by the excessive fights between Zong Hua and his step-father.
©
https://en.wikipedia.org/wiki/Hungry_Ghost_Ritual
https://en.wikipedia.org/wiki/The_Hungry_Ghosts
https://en.wikipedia.org/wiki/A_Month_of_Hungry_Ghosts
https://en.wikipedia.org/wiki/They_Wait
https://images.google.com